Here are the first photos of our Rosevale Leggo x ABL Morning Star filly at two days old.
Unfortunately the low light was not too good for exposure, but I will get some better pix in a couple of days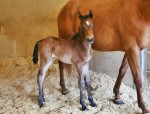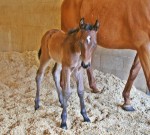 The is an "M" year for names at Merriewold and this will be our only foal.
If you have any ideas for a good "M" name for this  bay filly…
please click on 'post a comment' and let us know!
click here to see more photos!