Merriewold Latte and Tuscany left  Polly Rich Farms and returned to Arroyo Grande when Latte was about two weeks old.  After a weekend to settle in Jackie Brittain introduces Latte to gentle handling and lead line training.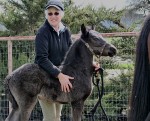 In the first photo Jackie shows how she holds the foal for the first time.  Close and secure.  She will gently pat and talk to Latte while her 'Mom'  Tuscany is being groomed.
Here Jackie strokes the filly and runs her hand down her back and legs in preparation for picking up her feet.  The front feet came up with no problem, but when Latte objected to having her hind foot touched, Jackie moved her over to the fence where both felt more secure and Latte relaxed.
Jackie now prepares Latte for her first walk on a lead line.  The first walk is usually short, just a few mnutes following the mare. 
For more foal training tips see the first installment of our newsletter…click here!  (link comming)
To see more photos of Merriewold Latte (Gulfwind Sir William x Caduceus Marika)…click here.