Training Tips for your horse by Jackie Brittain
"A tip for weighing and saving your hay"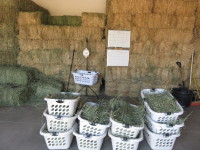 Perhaps I am a bit off the subject of training tips, but I would like to share a method for weighing and saving your hay.
Today's hay prices make it necessary to shop smartly for your next load of hay.
Transportation and delivery of hay drives up the price per bale.
And many times you have to settle for lower quality due to these costs.
So I want to share a method of feeding hay that will not waste the hay and will also be a benefit to your horse's health.
Once you have made the decision of the type of hay or hay mixture you prefer for your horse in accordance to the metabolic needs for the work load, you should begin the practice of weighing each feeding.  It is simple to do and anyone can be shown how to weigh hay rather than guessing the weight of each flake.  And if you have someone feed your horse while you are out of town you can be sure that your horse is being fed the proper amount.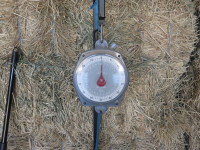 First you need to purchase a scale.  I have a Taylor 70 pound high capacity Dial Hanging Scale model #3470.  They cost about $40.00 and last for years.
Secondly you need to purchase a large laundry basket, the heavy duty ones cost around $15.00.
Thirdly you need to purchase a bungee cord and an "S" hook.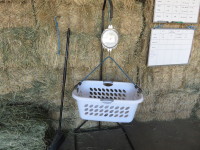 You can mount or hang your scale so that you can load the hay into the basket and read the scale.
To begin weigh the laundry basket.  The ones I use weigh three pounds.  Then fill you basket with your estimate of a normal feeding portion.  Write down the total and you have a onetime feeding amount of hay.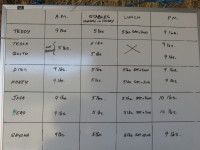 I would suggest a feeding chart of morning, midday and evening feedings.  Portions can be made ahead and be ready for the next feeding and is not so messy for the person feeding.
You will be surprised at how the flakes of hay vary in weight from bale to bale and that is due to the hay baling machine.
You will be amazed at how much less waste occurs.  It is also a valuable tool in maintaining good health and aids in determining health changes through weight loss.
I only wish I had practiced this method many years ago.  It is a simple solution to having an accurate amount of hay fed consistently and that is the bottom line for a happy, healthy horse!
Jackie Brittain
Merriewold Morgans Trainer