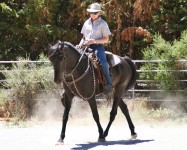 Many horse owners have more time to spend with their horses during the summer vacation months and make plans for the show ring or trail riding.
With the summer comes periods of high temperatures that affect your horse physically. Certain precautions can be taken to insure that your horse remains hydrated and performs its best.
Preferably it is better to start a summer health management program in the late spring. Heat related issues begin over a period of time and can be prevented with good care.
Continue reading Summertime Riding and Care, by Jackie Brittain →