This  article appeared in the MWM news blog,  But I totally overlooked posting the results as well….
So finally here are the 2014 Contest results!!!
Meet the Finalists of the 2014 Merriewold Morgans
International Morgan Horse Photo Contest

Paola Anderson won first place with her photo, Come Fly With Me.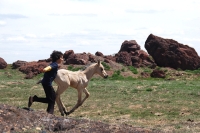 "The boy is my 11 year old son Max. He shares my love of horses and is usually out with the herd playing and snuggling the horses.  He is also great at desensitizing duty as he is a typical loud boy and likes to shoot nerf bullets in the horses general area.   In that photo Max was just playing freely and having fun.  The foal is a May 1 2014 stud colt by my stallion Marana Artistry and out of my mare DM Correll.  He is registered (CMHA ) as Silver Mist Namaste and called Aremis. He is a very tall and stunning buckskin and will be a future sire for our farm. 
I have been raising Morgans for just a few short year,s but was born with
my love of horses. I was raised around mainly QH's and Tennessee Walkers, but always wanted a Morgan.  I had seen them around and had admired their beauty and grace.  In 2009, I fell in love with and purchased Marana Artistry - who was my first Morgan and have since been fortunate enough to breed and purchase many more Morgan horses.  I love all horses, but to me Morgans are kind of a fairy tale horse with their flowing manes and tails, and yet – they are so versatile and easy to keep. I guess they satisfy the inner child in me who just wants to be with them, as well as, the adult in me who is more ambitious.  They are a well-rounded breed.  What is not to love. 
I love to ride.  Mainly English pleasure and jumping, but I am moving into other areas now and spent the winter learning to start colts.  I am currently starting some of our youngsters.  I am always learning and loving it all.  I also enjoy art and photography and I am certainly no expert, but I love to take photos and the Morgans are my favorite subject. Children and horses also seem to naturally go together.  It reminds me of why I love them and how it is just to be as free with them as a child is.  It helps me to keep things in perspective.  I love photos that make me feel something and tell a story to me.
My Morgans are the loves of my life.  My passion.  It's a labor of love, but I would not trade it for anything.  I am very lucky to share my life with such amazing horses and I like to share them with others as I feel that's what they are for.  Taking photos allows me to share my horses through my eyes.   Maybe someone else can be inspired or fall in love with a Morgan the way I did." ~ Paola

Vali Suddarth won Second place with her photo, New Kid on the Block.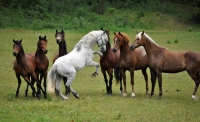 Vali lives in Missouri and owns Missouri Morgans. Pictured in the photo is one of her stallions a rare gaited gray, Bacon Silver Miracle.
Vali is a carded IJA Gaited Horse Judge and business owner.  Jim, her husband, is a retired Insurance agent for Missouri Farm Bureau and the current President of the Gaited Morgan Horse Organization/Morgan Single-footing Horse Association.
They have 5 children and 9 grandchildren. Jim and Vali are raising registered gaited Morgan horses from concentrated lines for gait within the Morgan breed. They are avid riders and spend a lot of fun time in the saddle.

Tina DeLullo won 3rd Place with her photo, Peekaboo.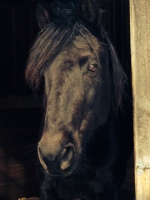 Tina lives in Massachusetts, and here is what she says about her Morgan, Enzo:
"Enzo is registered as Blueandwhite Cadence.  He is 11 and is doing well at training level dressage here on the New England circuit.  In fact, he's won championships at all three of the shows he entered this past season, and we're planning to show at first level next year.
During the show season, he is trained by Dottie Brittingham-Foreman of Independence Stable, and the rest of the year he's my trail riding buddy.
He's got tons of charisma, and I could just watch him at work or play all day. I'm honored and blessed to have him in my life." ~ Tina.

Corrie MacMurchy won 4th Place with her photo, I Love My Ball.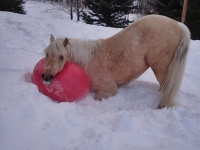 She lives in Alberta, Canada and owns Tangowood Morgans.
"In this picture is my 2007 Morgan stallion, Tangowood's Wings Of War (Pure Country OK Correll x Buckhorn Besty).  "Indy", when he was a 3 year old.  Indy had just come off of 8 months of stall rest because he had severed 75% of his hind tendon.  I wanted to provide him with some mental stimulation, not knowing how much he would love his ball.  All the broodmares ran away from me, when I was carrying the ball, but when Indy seen me, he ran towards me.  I had to throw the ball at him and get out of the way, which was kind of hard with all the snow.  Sad to say but the ball did not last long.  Indy popped it the next day.  He was so sad…he kept pawing the flat ball and rolling on it.  I guess the Stacy Westfall balls are not made for Alberta winters, lol.
I have been raising Morgans for 25 plus years.  I bought an old broodmare Ayesha Rockwood and bred her to Ramuls Justin and then that was the start of it all.  I still have the mare from that cross.  All my mares have Ramuls Justin in them and then crossed back with the Triple S/ Model bloodlines have proven to be an incredible cross.  These horses can work a cow, jump a hunter course, compete in English/ Western pleasure or just take you down a trail.
Both my daughters and I are very active in showing and riding our Morgans.  I just love it when someone comes up and says "Is that a Morgan?  Wow! ".  I usually have one or two babies a year for sale.   It seems lately it is all palomino fillies, since that is all Indy has produced to date… 6 fillies.. All palominos.  Thank you Merriewold Morgans for having this contest." ~ Corrie MacMurchy

To view all the photos from Merriewold Morgan's 5th Annual International Morgan Horse Photo Contest
CLICK HERE
It has been a wonderful contest. We love seeing all the gorgeous Morgans from around the world!
So, until next year, keep those cameras handy!
Diana