AND THE WINNERS ARE…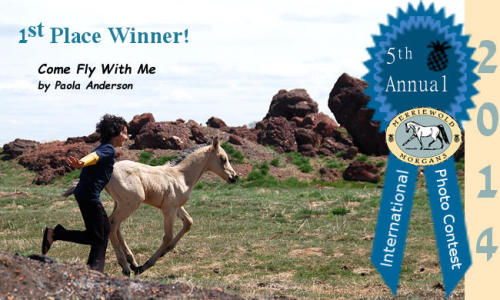 The winning photographs in the Merriewold Morgans 2014 International Morgan Horse Photo Contest have been selected.  Congratulations to the 4 Finalists and the 8 Honorable Mention Winners  it was difficult making the final choices with so many high quality photographs.   A huge Thank You to all the photographers and Morgan lovers who took the time to enter their beautiful photos.
This has been a record-breaking year for our contest!  164 photos were entered,  about double the number in previous years.  Entries came from 6 countries including: Germany Australia, Canada, Sweden and the UK.  From the USA, 31 states participated!
Because of the large response, we decided to increase the number of winning entries by adding a fourth finalist and 2 additional photos in the honorable mention category.  And still there were so many excellent photos that our judges, Entera and Casey McBride would have liked to select.
Each year the quality and interest in our Morgan Photo Contest just gets bigger and better.  If you entered but didn't win a prize, keep working on your photo skills, keep taking more shots and perhaps take a photography course.   And please enter again next year!

The Winners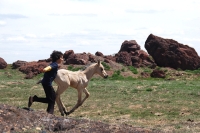 First Place:  Come Fly with Me,  by Paola Anderson
Judges comments, "This photo is not only visually pleasing, well composed and technically strong, but it also is inspiring and tells the tale of a boy and his friend on a magical adventure.  This photo could be the cover image for a story similar to Peter Pan.   Congratulations, Paola on a wonderful photo!"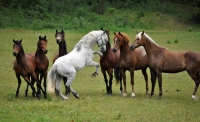 Second Place:   New Kid on the Block, by  Vali Suddarth
Judges comments,  "This photo has interesting composition, dramatic theme and shows the beauty and character of the Morgan horse all in a natural, pastoral setting.  Well done!"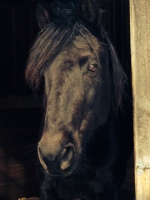 Third Place:  Peekaboo, by  Tina DeLullo
Judges comments,  "A serene portrait that is artistic, creative, and also technically and compositionally well done.   But most importantly, it gives the viewer a sense of the character and beauty of the Morgan Horse. Congratulations Tina!"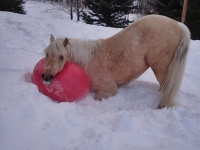 Fourth Place:  I love my Ball, by  Corrie MacMurchy
Judges comments,  "Fun,  Funny, Endearing!  This photo makes you smile. And isn't that what our Morgans do?  Make us smile every day. The judges wanted to give this photo a special prize for humor!   Wonderful Photo!"

In no particular order, the Honorable Mention winners are:
Focused On A New Beginning, by Jackie Dannenberg;  Love at First Sight, by Stephanie Tanner; Oh The View, by Dana Crossland; Beach Fun, by Robin McGrath; Wanna Share, by Michele Meijer; Stallions Poco and Calypso, by Danny Collins; Sunset, by Klaus-Peter Henkel and Diego. Morgan-3, by Jennifer Judkins.

Bj. deCastro has written an article exclusively for the Merriewold Morgans Annual Photo Contest called, "12 Tips on how to get that Award-Winning photo of your horse" for the aspiring photographers.
Click here to see all the 2014 photo entries.
That brings us to the end this year's contest.   We look forward to another year and our 6th annual contest in 2015!  See you all then!  And keep taking those photos of your Morgans!
Diana