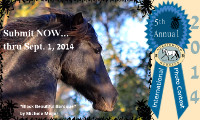 Grab your cameras!   Search through your photos!  Join in the fun and win great prizes!  Merriewold Morgans is having our 5th Annual Photo Contest celebrating the Magnificent Morgan Horse.  Entry is FREE and will be judged by equine photographer, Casey McBride and  fine artist and life-long equestian, Entera.

Work will be judged on the following criteria:
Effectiveness in conveying the beauty or unique character of the Morgan horse
Artistic creativity (Unique vision in perspective, action or feeling in the photograph.)
Natural theme (We are not looking for conformation shots.)
All entries will be displayed at the Merriewold Gallery.  Prizes will be awarded for the top three images. *You can view all the entries in the Photo Contest Album any time during the contest.

Prizes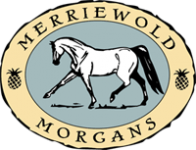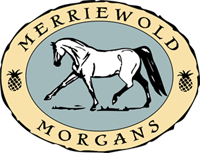 All prizes are donated by Merriewold Morgans.
1st Place Prize is a large coffee table photo book,  EQUINE BEAUTY, A Study of Horses, by Raphael Macek.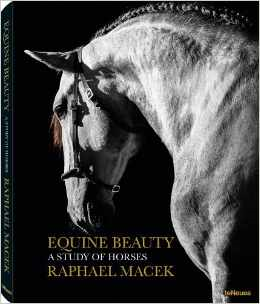 Beautiful, artistic, dramatic and sumptuous are some of the words that come to mind looking at these magnificent images of the Horse.  The legendary and complex relationship between humans and horses is an enduring one.  The horse's distinctive blend of grace and strength and it's sleek beauty has long been analyzed, admired and represented in artistic form–whether through painting, sculpture or photography.  Raphael Macek's inspiring images of equine majesty feature both close-ups and complete figures against the backdrops of artful landscapes.
2nd Place Prize is a Limited First Edition,  Collector's Boxed Copy with Certificate of Authenticity of the book, America's Own, A Celebration of America and It's Horse.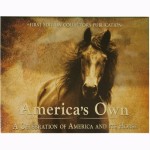 This book pays tribute to America's first breed of horse, the Morgan, through 50 true stories of the Morgan's amazing influence on the America we know today.   Through this combination of both famous and lesser-known anecdotes, you'll experience and discover how the Morgan Horse shaped the development of the East Coast, took the horse racing world by storm, changed the course of history in the Civil War, settled the Western Frontier as the mount of the pioneer, connected the nation through the Pony Express, and so much more.
3rd Place Prize is a book, Photographing HORSES – How to Capture the Perfect Equine Image, by Lesli Groves.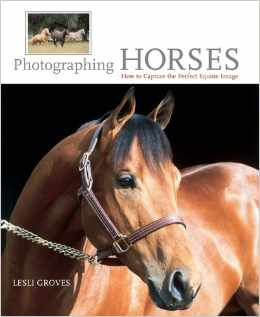 This book is for people with an affinity for horses, regardless of their affinity for cameras.  Logically, they have the greatest appreciation for better horse pictures, even if they don't have a clue how to take them.
Through the camera you develop a more discerning eye for horses. Â You distinguish more in their individual conformation and the dynamics of their movement, their expressions and behavior.
Horse photography does not lend itself to a traditional "how-to" approach, except at the most elementary level.  It is not like paint-by-numbers.  We don't all have the same expectations, nor are we working with predictable ingredients.  And that's the beauty of it.  Our photos are unique images of unique individuals.

How to Enter:
Submit via email, by September 1, 2014, 1-3 of your images in the format stated below in the rules.
Submit to: (photos@merriewoldmorgans.com)
Rules:
Amateurs only. ('amateur' means you do not get paid for your work.)
Morgan horses only. (Horses can be at liberty or under saddle.)
Photography only. No "graphics", logos or Photoshop-type entries allowed. Minor adjustments such as light/contrast, cropping, etc., is allowed using your favorite graphics/image program.
You may enter up to 3 images.  (Previous years 1st-3rd winning entries can not be resubmitted and are not eligible to win again.)
Entries must be received by September 1, 2014.
Email digital files only. No snailmail entries.
Entries must be .jpg and a minimum of 400 pixels wide and a  maximum of 600 pixels wide at 72 dpi.
Your full name, Country and the photo title must be included in email. Name your file with title of your photo. I.e., attachment file: myprettymorgan.jpg
Schedule:
April thru September 1, 2014: Entries received.
During the month of September:Â Judging.
October 2014: Winners announced in the Fall Newsletter issue. *Sign up for our Newsletter here!
Legals:
Subscription to our Newsletter is not required to enter.
Merriewold Morgans, it's partners or sponsors are not responsible for any copyright infringement concerning the entries submitted by you and posted on the http://merriewoldmorgans.com website.
Email submittal of your entries warrants and guarantees that you are the original creator and owner of each entry image.
No monetary award will be afforded in lieu of prizes.
By submitting your entry, you acknowledge and give consent for the display of said images on the http://merriewoldmorgans.com website indefinitely and without monetary consideration. Consent also applies to any winning images that "may" be used in advertising campaigns; media promoting or reporting on the contest for this, or coming years.

Judges: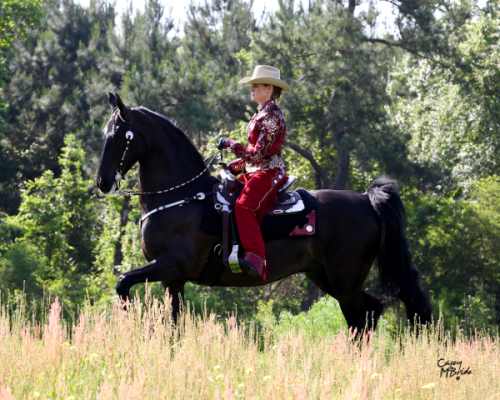 Casey McBride has been photographing horses of all types for the past 27 years. He started working for his grandfather, Jack Schatzberg, at the age of 13 working in the darkroom, getting ears up, win shots, shooting halter horses and traveling the nation.   In his early 20's he was ready to start on his own and started Casey McBride Photography (www.caseymcbride.com).   Since that time he averages 35,000 miles each horse show season traveling from the East to West Coast shooting all types and breeds of horses from Mini's to Drafts, Morgan's to Quarterhorse's, and Saddlebred's to Mules!  When he's not in the middle of the Horse Show arena he lives in Phoenix Arizona with his beautiful daughter Hannah and his beloved Lab, Anni.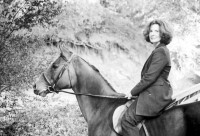 Entéra's work is included in many national collections, both private and corporate, and is increasingly being sought out by astute collectors. She is an Artist Member of the internationally prestigious California Art Club, as well as a member of the Santa Barbara Sculptor's Guild and Santa Barbara Art Association.  In addition to her fine arts, Entéra's skill as a draftsman and portraitist has demonstrated itself in her amazing ability to draw cartoon portraits in a few minutes, and over the last 25 years she has entertained with her quick sketches at thousands of parties and events throughout the country, including dozens for celebrities.

Sponsor:

Merriewold Morgans
10515 La Ranchita Lane
Arroyo Grande, CA 93420
805-473-2356
Morgan Sport & Show Horses for the Competitive Owner and Rider.
Breeding Stock for the Quality Morgan Breeder.
Family and Pleasure Horses for the Morgan Enthusiast.