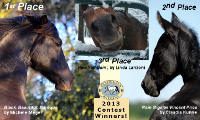 The top photos in our 2013 Morgan Horse Photo Contest have been selected.  Congratulations to the 3 Finalists and the 6 Honorable Mention Winners.  And a huge Thank You to everyone who took the time to enter their photos.  The only thing better that our Morgan horses…is the fun of photographing them!
Bob Langrish our esteemed judge and internationally renowned equestrian photographer, said that this year was particularly hard for him as there were so many great photos.   He was sorry that he could only select 9 photos and reluctantly had to edit out several to stay within that number.
We are gratified that each year the quality and interest in our Morgan Photo Contest just gets better and better.  So, if you entered but didn't win a prize, keep working on your photo skills, keep taking more shots or perhaps take a photography course.   And please enter again next year!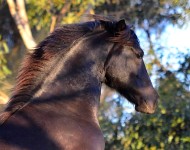 For the second year in a row Michele Meijer of Crystanby Morgans in Australia has taken the first place,  This year with her photo, Black Beautiful Baroque.  Congratulations Michele!
Judges comments, "I like the strength of the horse, the sharpness, light/shadows and conformation (although it was not one of your strictures).  There is so much presence in this horse."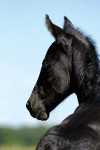 Claudia Kunne of Germany took second place with her photo, Rain Gigolos Vincent Price.
Judges comments, "It is the sort of shot that I would take and it just captures the foal's majestic character."  Way to go Claudia!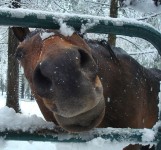 In third place from California is Linda Lanzoni's photo,  How You Doin.  Congratulations Linda!
Judges Comments, "This is one fun shot which could be used on cards and calendars all over the world."  

Bob had comments for the Honorable Mention photos, as well, "The other six – and I love the 'eye', are all good equestrian shots, which I would have been happy to have taken myself.  The eye is always a powerful picture and somehow, being black and white makes it more interesting and takes me back 40 years!  The action pictures speak for themselves, being there at the right time.   But the little grey trotting has been captured at exactly the right moment - that is the epitome of a dressage shot with a dark sky, which enhances the outline of the horse.  If it had been a white sky the picture would have been lost."
In no particular order, the Honorable Mention winners are:
Looking into the Horses Soul, by Lexi Kasch; Crystandy Hrimfaxi by Rafael Sallis; Are You My Daddy, by Stephanie Tanner; Sonny Showing Off for Mom, by Debra I Smith; Boy Play, by Rafael Sallis and SHMH Contessa – our 2013 Filly, by Regina Reiter.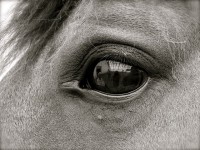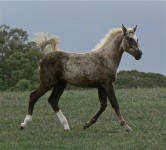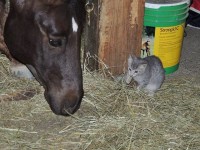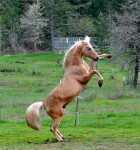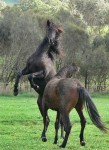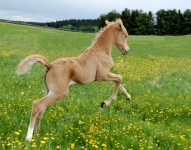 After judging the contest and reviewing all the photos, Bob had a few comments for the aspiring photographers:
"A comment on many of the other pictures, that could be helpful for the entrants another time is that the backgrounds are what make or break pictures and it is crucial to make sure that they are good, if at all possible.  Many of the really nice photos were not chosen for that reason.  The kitten and the horse is a very cute shot, which I kept in, but what a pity they didn't move the green and yellow bucket from behind!"
Thank you Bob Langrish,  for your help with this contest and for your wonderful photographic work!
To View All the Photos in the 2013 Contest…CLICK HERE!
That brings us to the end this year's contest.   We look forward to another year and our 5th annual contest in 2014!  See you all then!  And keep taking those photos of your Morgans!
Diana