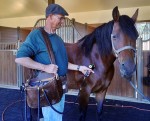 Equine health care management certainly requires "A Village".  Naturally, horse owners must head up their team with a competent, knowledgeable, and experienced equine veterinarian.  Preferably, your vet will be skilled in the breed and type of horse(s) you own, as well as the sport in which you and your horse(s) may compete, if that is the case.
Next, and absolutely as important, in my  opinion, is to have an expert, qualified farrier and/or hoof trimmer.  The old adage, "No hoof, no horse" still holds true today.
Having the foresight and wherewithal to include one, or more, complimentary modalities to your horses' health care routine will balance your team and optimize your horses' health care management program.
In Part 1 of this series, I'll be discussing Low Level Light Therapy and Reiki. I think you'll find this information enlightening and, I hope, will inspire you to explore the possibilities for your horses.
Understanding Low Level Light Therapy
Low level light therapy (LLLT) is a term used to describe both LASER and NON-LASER light therapies. Â There are many LLLT systems used today in both human and animal therapies, but for our purpose, we will be discussing LLLT in general and the Thor DD Laser System, specifically.
A LASER (Light Amplification by Stimulated Emission of Radiation) is a device that emits a special form of light.  The light is special, because it consists of light waves of a single wavelength, in which, all the waves reinforce one another.  This is known as coherent light.  Coherent light has  wavelengths  from 830 nanometers (nm) to 950 nm.
Our machine, the Thor DD, incorporates both LASER and LED (Light Emitting Diodes) probes. Â Our 500 mw LASER probe generates light at a wavelength of 810 nm – meaning that, without special viewing equipment, one cannot see it. Â The LED probe generates light in a combination of visible red light and invisible infrared light with wavelengths of 660 nm- 950 nm respectively.
The lower wavelengths (600-700 nm) appear to have a more beneficial effect on wound healing and skin conditions. Â  The high wavelengths (800-950 nm) appear to have a more beneficial effect on soft tissue injuries. Â For penetrating and stimulating acupuncture points, we use the higher powered and more focused LASER probe.
Treatment times with our Thor DD vary from patient to patient, according to the condition being treated, but a good rule of thumb would be 10-15 minutes (including acupuncture points). Â Less powerful LLLT devices can take up to 5 minutes per point and/or 30 minutes per area being treated, therefore, not practical for practitioners, but may be suitable for – and certainly more affordable for, owners, trainers, grooms, etc. Â Treatment with LLLT is reasonably uncomplicated and painless.
Physicians in hospitals and clinics in Europe, on humans and animals, have used LLLT since the early 1970's.  In the United States, the use of cold LASERs to treat animals started in the late 1970's.  Owners and trainers of race horses and show horses found it of value to treat problems common to these high performance athletes.  This therapy has spread to other veterinary disciplines as it has become better  known  and understood.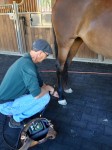 LLLT is know to accelerate the treatment of and recover from injury to the following:
Muscles, Tendons, Ligaments, Articulations, Bones, Nerves, Minor Fractures
Strain & Stress, Pain & Inflammation, Spasms & Knots, Bruises & Contusions
Blisters & Hematomas, Swellings & Tears, Founder, Open Wounds, Scar Tissue
Arthritic Pain, Muscle Atrophy, Cartilage Wear and Navicular
Class 3 LASERs (the Thor DD is such a LASER) are potentially harmful to the retina. Â Though retinal damage is unlikely, precautions to avoid contact with the retina must be taken.
Some patients, more commonly those with chronic condiGgtions, may suffer a mild treatment reaction to LLLT and occasionally to traditional acupuncture. Â A temporary worsening of symptoms is normal as the body begins the healing process. Â This reaction is short lived and generally no more than 24-48 hours.
Hopefully, this information has answered any questions and/or concerns you may have with regard to acupuncture and LLLT. Â We, of course, will happily answer any other questions to the best of our ability and/or direct you to sources, which can further satisfy your interest in acupuncture and light therapy.
 Reiki:  A Brief Overview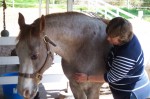 While hands-on healing is as old as humankind, at some point in time, we appear to have lost the knowledge of how to use this remarkably powerful healing gift. Â It was "rediscovered" by Dr. Mikao Usui during the 21 day retreat to Mt. Kurama, Japan, shortly after the turn of the last century.
Reiki, pronounced "ray-key', is a natural healing technique that makes use of the laying on of hands. Â Reiki is made up of two Japanese words, "rei" meaning universal/Divine life energy, and "ki" meaning life force energy. Â Thus, Reiki is spiritually guided life force energy. Â While Reiki is spiritual in nature, it is not a religion.
Reiki is both powerful and gentle, and has aided in the healing of many illnesses and injuries in both humans and animals. Â It appears to aid a body's own natural healing abilities and works on the physical, emotional, mental and spiritual levels.
Reiki is a relatively simple set of techniques to  learn.  There are three levels of knowledge.  These levels are attained by attending classes (Reiki 1, 2 & 3).  Completion of Level 2 is strongly encouraged, before one should be considered a Reiki practitioner.
Reiki Notes
Reiki can be especially profound when given to animals.  Animals are exceptionally  available  for and accepting of, hands-on healing, when given with an open heart and pure intention.  I have given Reiki to animals, especially horses, for many years.  I am amazed every day by the spiritual doors that continue to open and the deeper understanding I develop of the purpose without ego or expectation.
Reiki has also allowed me to find my way back to the art of listening. Â I believe that we are all gifted with the ability to listen to the hearts of others, but this natural gift is, unfortunately, more often forgotten than remembered. Â Reiki, requires that one empty one's mind and be open to the channel of Life Force Energy. Â This has allowed me to connect with, and truly hear, what animals want to communicate to us about their physical ailments, their emotional wants and needs, and even when their time has come to leave life, and the opportunity to be present with, and to facilitate, them at this time of transition, is one of the highest honors I have experienced.
I encourage you to explore the wonder filled healing path of Reiki. Â It can bless your life in ways you cannot imagine!
Namaste,
Maggie

Biographies of Rod & Maggie: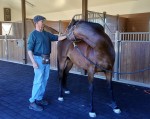 Rod's training in acupuncture began n 1985 at the California Acupuncture College in Santa Barbara, CA. Â In 1987, he received his clinical training in acupuncture and laser therapy certification at the World Health Organization's Open University for Complimentary Medicines, in Colombo, Sri Lanka. Â Rod subsequently received his doctorate in complimentary medicines (specializing in acupuncture) from his same institution in 1989.
Rod and wife, Maggie, operated a human acupuncture clinic in Mulege, Mexico from 1989-91. Â Rod's equine training and experience began in Mexico and continued in Del Mar, CA, where he was under the tutelage of equine specialist, Chris Ross, D.V.M.
Maggie is a graduate of the University of California at Santa Barbara, a certified equine Sports Massage Therapist, trained laser therapist and certified Reiki Master (2002).
Rod and Maggie's Bio-Energetic Therapies was born on the Central Coast of California in late 1991. Â They performed acupuncture, laser therapy and Reiki for 8 years (1997-2004) on the "A" hunter/jumper horse show circuit and regularly traveled throughout Northern California, Oregon and Washington, working on horses. Â In 2006, they made the difficult decision to semi-retire. Â They work now, with the rare exception, in close proximity to their home on the Central Coast of California.
Rod Raymond, D.Ac.
Maggie O'Brien, Reiki Master
805-929-5240
805-878-0822 (cell)
rodnmaggie@gmail.com