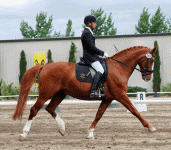 Alejandro Salazar started riding horses at a young age on his family's ranch in Costa Rica, where he was born and raised.  Shortly after, he started receiving formal instruction in Jumpers and Dressage.  It is an education he has continued to pursue for over 30 years.
While still living in Costa Rica, Alejandro was a team member for the Costa Rican National Equestrian Team.  Team membership presented numerous opportunities for International competition in Costa Rica, as well as, several Latin American countries.  Alejandro regularly participated in National Level competitions that led to wins of National Championships both in Dressage and Jumpers.
In 1987, Alejandro's family was transferred to Mexico City, Mexico, where he continued the training of his Thoroughbred stallion imported from Costa Rica.  Eventually, competing him at the Grand Prix level in the Mexican Jumper circuit.
Another family transfer took Alejandro to Southern California in 1989, where he finished high school and completed a Bachelor of Science in Mechanical and Environmental Engineering from the University of California in Santa Barbara.
He then attended Purdue University in Indiana, where he obtained a Master's Degree in Civil and Environmental Engineering.  While in Indiana, Alejandro worked at a large Dressage breeding and training facility.  He obtained extensive education in young-horse training and barn management.  This facility provided numerous opportunities to take a wide variety of horses to competitions.  This included young horses getting out for the first time…to more advanced competitors.  Alejandro schooled the horses trained at these higher levels on a regular  basis - including their Grand Prix breeding stallion.
In 1997, Alejandro moved to Northern California where he continued to compete in both Jumper and Dressage rings, while working full time as an Environmental Engineer.  Rancho Pura Vida was established in the year 2000, and Alejandro transitioned to training full-time.
Since opening Rancho Pura Vida, Alejandro has maintained a client list of horses and riders at all different levels – from novice to advanced competitors,  while continuing to elevate his own abilities and performance at advanced levels of competition.  Alejandro developed a strong reputation for successfully resolving issues with difficult horses, including stallions.
As Alejandro's show career advanced at higher levels of competition, more horses and students appropriate for that level of competition came in to his training program.  The program has evolved into a comprehensive system, working with horses of all breeds and riders/horses at all levels of training.  Alejandro teaches a large number of lessons per week, as well as, doing monthly clinics at other locations.
Although he competes regularly with horses at both schooling and rated shows, Alejandro's current main competition string in dressage include:
His own dressage horse Don Fioretto, an Oldenburg gelding, showing Prix St. George and Intermediate, and working on developing the Grand Prix to hopefully show at that level in 2014.

A Hanoverian gelding named Luxemburg owned by Leslie Munoz of Placerville, California.  Luxemburg came to Alejandro trained to 1st level and schooling 2nd level, and he is currently showing in 4th Level and Prix St. George.

And a young Morgan mare named Merriewold Kirin, bred and owned by Diana Wold of Merriewold Morgans in Arroyo Grande, California.  Kirin came to Alejandro last year with a good start under saddle and she is currently doing great at 1st level and showing great promise for more advanced dressage work.
 Alejandro and Kirin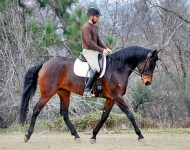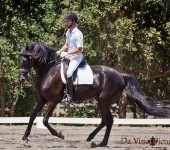 Alejandro and Legacy
All three of these horses have qualified for the Regional USDF and CDS Championship show to be held in September 2013 in Northern California.
Alejandro's current main competition string in jumpers include:
His own jumper horse, a rescued thoroughbred off the track named Amigo, competing at the Mini-Prix Level and working toward the Grand Prix ring.
AÂ talented 5 year old Oldenburg gelding named Landson owned by Alexandra Williams of Placerville, California, currently showing in the 1.0 meter division. Landson shows great promise in the jumper as well as potentially the hunter ring and is being developed hopefully to be a Grand Prix jumper a few years down the line.
As well as, a group of other prospects including several sale horses.
Alejandro holds a Bronze and Silver Medal from USDF; is a certified trainer with the USHJA, and is currently working on his trainer certification with the USDF.  He is planning on obtaining his USDF trainer certification in 2014 as well as working toward his Gold Medal from USDF.  He regularly audits and participates in clinics with US as well as European Dressage and Jumping trainers.  His dressage coach is Rachel Saavedra, a Grand Prix dressage trainer and competitor and a faculty member with the USDF educational program.
Alejandro Salazar is the owner and trainer of Rancho Pura Vida, located on the east foothills of the Sacramento Valley in Northern California.
Website:Â  http://ranchopuravida.com/Index.html
Phone:Â  (530) 306-6818
Email:Â  info@ranchopuravida.com